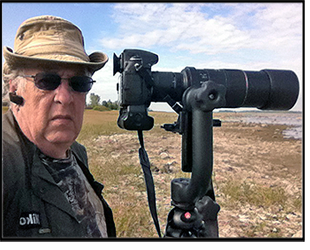 As a teenager I was already interested in nature. I began studying and collecting butterflies, which led me to the observation of birds. Finally that hobby led me to a career as a photographer specializing in advertising; a profession where you control everything. Lighting, decor, accessories, products, people, etc. are placed according to very specific requirements.
After 40 years, the passion for birds returned. Today I observe them and photograph them as a source of relaxation and a renewal of my creativity. Indeed what a pleasure to take a superb photo without any control of the subject, the light or the environment.
Going early in the morning to take pictures of birds in their natural habitat is, for me, a source of satisfaction and pleasure. Exploring places that I don't know; listening for any noise; listening carefully for the presence of a bird in the area. I approach slowly and silently, finding the best place to observe without disturbing them and finally succeeding in getting an interesting snapshot. This is my passion to observe and photograph birds. Whether the photo is ordinary or excellent, it really is of no importance. Just waking in the wild is sufficient satisfaction for me.
There is also the fact that we meet other enthusiasts of ornithology with whom we can share our observations. This often allows us to find different species.
This site is a small tribute to nature, life and the environment as well as to the beauty of our flying friends.
Never forget that a good photo is achieved while respecting the subject, its habitat and the natural environment.
Traduction by Sheldon Harvey (Bird Protection Quebec)
Visit my professionnel site at
jplphotos.com
Adventure in the birds habitat ''That the respect is with you''
©
These photos are protected by Copyright Laws and may not be used without the consent of the author.